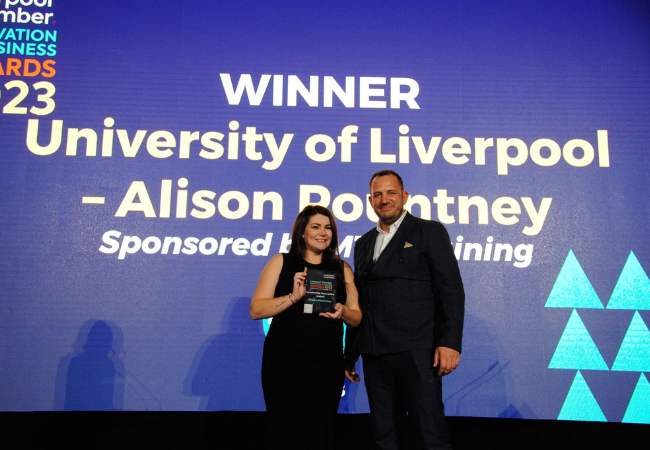 ---
Liverpool: Leadership Innovation Award

Alison Pountney, Entrepreneurship & Start-up Consultant at The University of Liverpool has received a Leadership Innovation Award at the Liverpool Chamber Innovation in Business Awards. The award celebrates the achievements of those who have modernised and innovated to the advantage of their business, team, and wider community. The annual awards celebrate local businesses and individuals who have driven their organisation forward throughout the year. Also on the night, recent University of Liverpool graduate Noura Qusairy was crowned Young Person of the Year, in recognition of her work in establishing Yamama, a new sustainable and ethical Bar, Kitchen and Café in the Baltic Triangle with a focus on supporting refugees.
---
Southampton: Sustainable Enterprise Challenge

Southampton Business School has been delivering a sustainable enterprise challenge to almost 200 Year 9 pupils across the city. The challenge, called Make Your Place, focuses on working with young people to help them explore local training, employment and business opportunities through developing products, services, and activities to make their place healthier, safer, and more sustainable. The programme, led by Enterprise Fellow, Sian Campbell, has just received over £25k of Higher Education Innovation Funding from the newly launched Sustainability and Resilience Institute to develop the program further, working with college and university students, and in other towns and cities. For further information please get in touch with Sian at s.e.campbell@soton.ac.uk.
---
ARU: 'Entrepreneurs on the Move at Anglia Ruskin University
Throughout the autumn, ARU will be hosting the Entrepreneurs on the Move networking events organised by Connected Cambridge. This is a fantastic opportunity for local entrepreneurs to engage with ARU students and graduates and to share their expertise and entrepreneurial journeys. So far, we heard from two amazing women: Ruth Everard and Claire Martinsen. Ruth runs Dragonmobility, a social enterprise that provides innovative engineering solutions to enhance mobility and accessibility for individuals and Claire is the founder of Breckland Orchard, a company that provides a wide range of carbonated soft drinks that use spring water as a base.'
---
Oxford Brookes: Digital Entrepreneurship
Oxford Brookes colleagues (Paul Jackson, Samia Kamal, and Philip Clegg) presented a session at IEEC as a follow on from their EEUK hosted Event at Brookes in February 2023 on Digital Entrepreneurship. The IEEC session, "Unpacking Digital Entrepreneurship: Establishing definitions, support needs, and preparing for businesses of the future," encouraged participants to consider, "what specific areas of interest there may be for Enterprise Educators in this space", and, "how might we better support digital and data-driven start-ups?" Feedback from that session is shared here, and a Community of Practice is proposed, with the opportunity to express interest via this link.
Download the pres
---
The Weave:Essex Business Accelerator
The Weave is hosting the seventh iteration of the Essex Business Accelerator, a seven-week entrepreneurial education program that helps entrepreneurs communicate effectively with their audience. The program has supported over seventy micro businesses and concludes with a pitching event where experts provide feedback. This is the final iteration of the program, and many businesses have joined The Weave community for ongoing support. The University of Essex has commissioned The Weave to deliver the iTeams program in 2024, bringing together students, entrepreneurs, and mentors to solve real-world problems. Other universities can now benefit from this program by contactingjames@wearetheweave.co.uk.
---
QMUL: Female Founders Retreat
In 2023, the Enterprise Team of Queen Mary received a small grant to create a pilot Female Founders Retreat to build a supportive network for women entrepreneurs paving the way for greater equality within their chosen career path. Focusing on collaboration, knowledge sharing and wellbeing through business and somatic sessions, the retreat centred on scaling sustainably and avoiding burnout. Since, the network developed from 8 to 40 members, embedded in a learning programme with bi-monthly meetups, speaker events, and more to grow the community. The retreat's achievements showcase the huge potential for supporting Queen Mary's women entrepreneurs.
---
Falmouth: Anthropy
Students from Cornwall Business School, Falmouth University studying Business Management, Sustainable Festival Management, and Creative Events Management recently collaborated with industry partner 'Anthropy' on a high profile 3-day event held at the Eden Project, Cornwall.  Anthropy is an annual gathering that aims to bring together diverse leaders to spark innovation and foster fresh thinking to inspire a better Britain. The event included a sustainable fashion show in partnership with waste reduction charity WRAP that showcased the potential for greater circularity and the use of deadstock fabric. Leah Shrimpton, a student, said, "My time working at Anthropy helped grow my passion to become a manager."