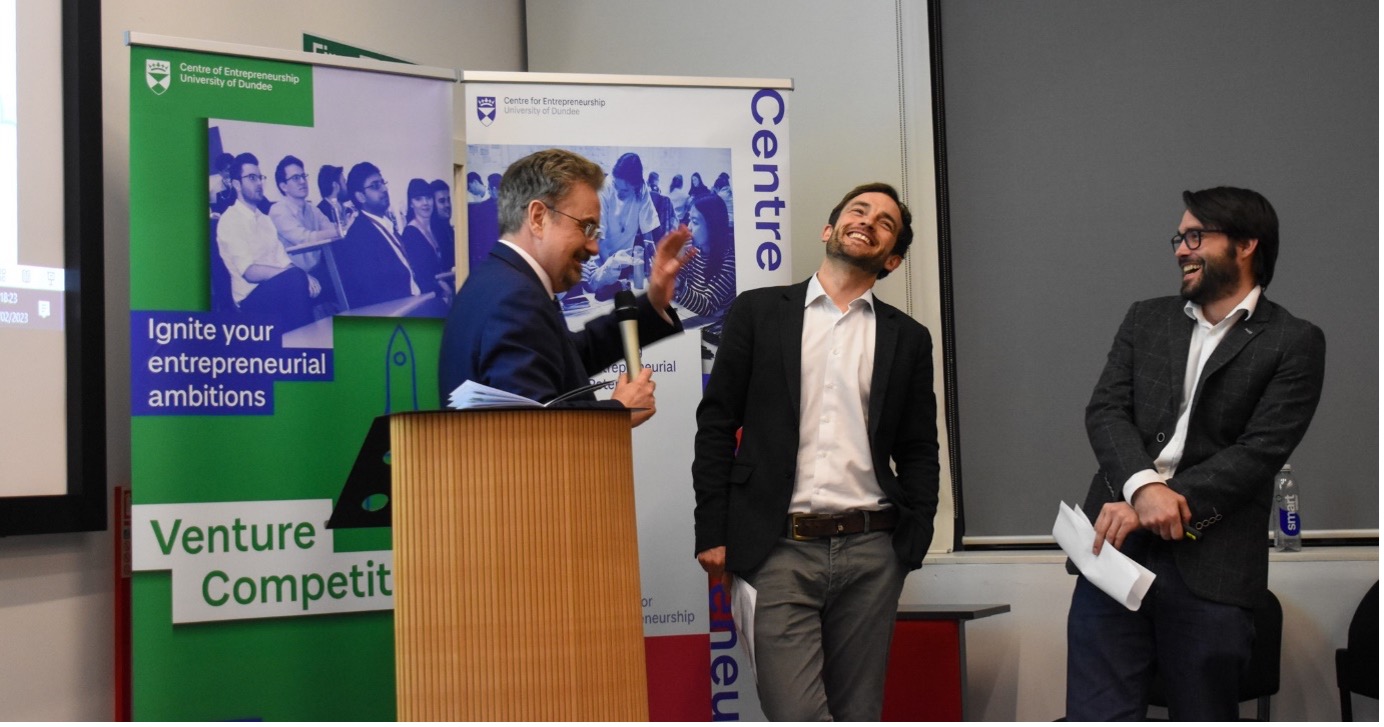 Dundee: Venture Competition
The University of Dundee's Venture Competition celebrates the entrepreneurial spirit found within the University and looks to support those taking their first steps with their business ideas. 13 winners across all academic disciplines were crowned from an initial 89 applications following a three-stage application and pitching process. The winners were awarded their share of the record-breaking £68,500 prize pot – making Venture the largest funding competition for new ideas from any Scottish university. The University's Centre for Entrepreneurship was also delighted to introduce the McGhee Award – donated by university alumnus Christopher McGhee, founder of Current Health. Find out more here.
---
'UEA Change Makers: The 2023 Grand Finale
'In March UEA Student Enterprise held the Grand Finale of the 2023 Change Makers programme. The programme, supported by Santander Universities, aims to stimulate business ideas that help change lives, communities, and the environment. After an eight-week accelerator course and £1,000 to test their ideas, 10 finalists pitched to a panel of judges and a packed lecture theatre. Mary Arteaga's business 'Water: Cooperation Network', an app connecting water providers in the Global South, won the main prize of £3,000. Meanwhile, Deborah Adesina's 'Joy Place', a venture using music and dance to combat loneliness, won the People's Choice award of £1,500.'
---
CardiffMet: Start Up Awards
The Start Up Awards are a nationwide initiative run by a collaboration between the Great British Entrepreneur Awards and Wales Start Up Awards, focussed on recognising the achievements of small businesses in regions across the UK. This year, Welsh Universities have seen no less than 20 students and alumni making the final round within Wales and multiple of the English regions, signifying the impact that enterprise support within further education is having on the start up landscape here in Wales. Read more here.
---
Swansea University Team win global prize at Texas A&M UniversityInvent for the Planet is a global hackathon, led by Texas A&M University that aims to create innovate and practical solutions to global problems. In February 2023, Swansea University were invited to take part as the only UK University, with 4 teams creating products to tackle challenges set by Texas A&M and industry partners.After being awarded first place at Swansea University, winning team H2Grow were invited to take part in the grand final in Texas with their reverse-osmosis water filtration system. On Thursday 20th April, they were announced as this year's overall winners and were awarded $5000 dollars to develop their idea.
---
KCL:Women Entrepreneurs Network Retreat 2023
This year, King's Entrepreneurship Institute is opening up its annual Women Entrepreneurs Network (WEN) Retreat to other UK university colleagues and their communities for the first time. The Retreat is an intensive learning weekend of interactive workshops and sessions focused on actionable steps to help ventures (usually at MVP stage) to scale. Taking place in-person, Friday 30th June – Sunday 2nd July, King's has space for 10 colleagues plus 2 members of your women entrepreneurs' community. To see further details, the programme outline and to register your interest by midnight, 19th May visit: https://lnkd.in/e-Vyn_XY
---
UCL: Startups pitch for investment at UCL's first Demo Day

Entrepreneurs from UCL's most exciting startups seized the opportunity to pitch for up to one million pounds in investment at the inaugural UCL Demo Day last night. Read more here.